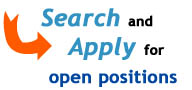 REMEDI is looking for hardworking business integration experts, B2Bi consultants, and EDI experts for project-based, contract-to-hire, and permanent career positions.
REMEDI serves two vital roles in helping place candidates into EDI jobs:
Individuals: REMEDI works with individuals to help them find jobs that best match their interests, skills, and expertise.
Companies: REMEDI works with companies to assess the types of candidates they need to accomplish their goals, then finds those qualified candidates for roles inside the company. If you represent a company looking to augment staff, please visit our page for recruiting assistance.
As a recruiter and consulting provider, we seek individuals for contract integration consulting roles and full-time integration candidates for placement. We are seeking the best of the best in the IT industry for rewarding careers. We have delivered handpicked resources possessing quality, integrity, dependability, accountability, and a sound technical integration skill set to our clients in all industries across North America since 1994.
If you feel you are a good match to the caliber of IT resources we seek, please upload your resume. Then, review our featured job opportunities for those that would be a good match for you. These positions are both challenging as well as financially rewarding.
In working with the industry's brightest business integration specialists, the result for REMEDI is a great reputation for quality, value, and a notable client roster with impressive infrastructures.
Placement Options

Project-Based/Contract
Clients seek our assistance for contract integration resources given a variety of needs. Project work in new implementations and conversions, as well as staff supplementation work for backlogs and capacity expansion are just a few of the reasons why clients come to us.
Contract To Hire
Some candidates and clients prefer a contract-to-hire solution that allows both parties time to evaluate and ensure that a long-term, full-time relationship is a good fit.
Permanent
Clients with long-term needs opt for our integration placement services as opposed to the consulting route. These are clients who seek to expand their in-house staff or backfill vacated positions. Clients depend on our industry expertise, relationships with top talent, and our track record of excellence to find and place the right person into their organization in a full-time capacity.
REMEDI Differentiators
Experience
Excellent company reputation, professionalism, and brand recognition
EDI/EAI/MFT knowledgeable recruiters and account managers
Established client base with over 9,000 contacts
Conversations with 300+ EDI/EAI/MFT hiring managers every month
Understand the needs of independent consultants and full-time candidates
Experienced leadership
Specialized focus, not a generalist
Opportunities
Leading edge projects – professional growth opportunities to learn new skills
IBM Gold Business Partner/software reseller
Training and certification opportunities
National presence / industry leader
Staff Support
Project scoping performed early by technical resources, not salespeople
Input on project direction by senior resources
Better screening and superior project matching
Internal and accessible support team (office manager, account managers, recruiting team)
Career and job search advice based on industry experience in EDI/EAI/MFT
Operational
Respectful and easy to work with, treat resources like a business partner, not a body shop
Referral bonus program
Direct deposit
Invoices paid twice monthly