The REMEDI Story
Whenever you start your own company, you get the question "Why did you decide to start your own company?" I love to answer this question because, although unconventional and not well thought out, it turned out to be a great decision!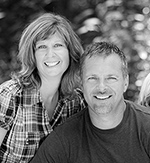 I began my EDI career right out of college and loved it from the beginning. There was never anything boring about it, and I got to work with people in all the areas of a company – accounting, sales, etc. as well as people from other companies. My husband, Brad, also worked in the same field…how many couples do you know that come home and talk about segments and elements! After I worked in corporate America for a few years, Brad and I started thinking about having children. We both realized that we wanted to have flexibility in our schedule to be able to spend time with our children – attend school events, sports, etc. At the time we thought it would be great to have our own business, but really weren't sure what kind of business we could start and be successful. We investigated several businesses and kept coming back to something we learned…"do what you know."
During this time of researching possibilities, tragedy struck my family when an aunt passed away at 42 while fighting a battle with cancer. Although I was not very close to her, it made me realize that life is short and can be taken away at any time. Brad and I did not have children yet, and within a few days, I decided it would be a good time to take the giant leap and start an EDI consulting company. Within eight weeks, REMEDI was started.
Nineteen years later, REMEDI has grown way past my expectations. We have an average of 35 consultants working on 40+ projects all across the United States at any one time, and Brad and I are able to attend all of our childrens' events…just as planned :)
Tracy Loetz – CEO