Fall is around the corner and 4th Quarter is quickly approaching. At REMEDI, we have a Quarterly Strategy meeting to re-evaluate our Vision, Mission and Strategic Direction. We invest a day every quarter at an off-site location to review our business objectives for the year.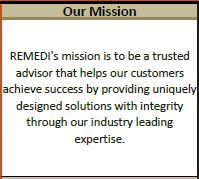 We have discovered that our Vision and Mission statements keep us grounded throughout the year. Our Vision statement from a high level perspective assists in telling us where we stand, where we are going and how we'll get there. Our Mission statement keeps us directed towards our business strategy and encompasses what we do, how we do it and for whom we do it.
Both statements go a long way toward determining the direction we take in the future. When businesses have a vision that their employees know and share, it makes decision making easier and produces a more consistent quality of service. Employees can use the statements to evaluate their work and stay in line with the company's goals.
A recent article on Inc.com stated that "…vision and mission statements have been largely branded with negative connotations. However, when used properly, vision and mission statements can be very powerful tools, especially for new and small firms." A vision or mission statement guides employees and creates a sense of integrity within them. Too few companies take the time to explain their values to employees however and many vision/mission statements become nothing more than a window dressing.
As a company specializing in Integration and EDI Consulting, Training, Recruiting, Managed Services and Software we have incorporated our Vision, Mission, Core Value and Core Strategy Statements into our daily conversations with clients. As you approach the 4th Quarter and continue to put together your budget and strategic plan for your organization for 2016, keep in mind that REMEDI can assist you with solutions that reduce costs, increase efficiency and improve time to market.