Have you ever worked on a project that seems to have urgent changes and items that need to be addressed constantly? As an EDI/data integration consultant, every project varies and some just don't seem to go as smoothly as others. This week I had the privilege of being called to a 'hot' client meeting, an 'SOS' meeting, the 'sky is falling' meeting by a client team member.
After having been out of the office in the morning, I returned to what some would call "email blow up". I counted them...93 emails all authored by one person, as if each time enter was hit the person thought of one more detail, thought, and opinion to convey in the mail chain. You ask if I read each mail? Goodness no, I know this author way too well to bother reading until I see a good 15-20 minutes of total silence and no new incoming mail. Then I open the last mail, scroll to the bottom and start reading up.
Long story and 92 emails later the bottom line is my presence was required in an urgent meeting. I freshen my water bottle, grab a snack and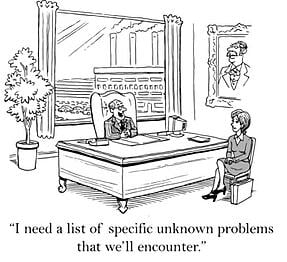 tuck into my cozy office chair and await 'the' call. As I was listening to technical talk for 20 minutes, waiting to hear the urgent issue that needed to be addressed, waiting to hear the ultimate pivot of the call, waiting to hear my name, waiting and waiting.
Thirty minutes pass, audio on the call seems a bit 'crunchy' I'm straining so hard to hear that when I hear my name well, let's just say that I was caught a bit off guard but manage to utter some ridiculous response likened to 'whatever you need, I'm onboard, I'll do it'. (Note to self: not always a wise response, especially when you don't hear or exactly understand the question.)
I take advantage of IM and ping a trusted person on the call and type "can we meet after the meeting?" I received a receptive and immediate response of "yes".
The meeting is done, onto the meeting after the meeting. I listen while the meeting before the meeting is broken down into terms that I understand and begin to get a feel of the impact to me, to my work responsibilities, to my work queue. I make a comment or two that are quite appropriate and well received. Now I know what's going on and what's needed of me. NOTHING, there is nothing required of me, I'm not needed in anyway.
Here are some things I have learned after being a consultant on many projects with a variety of personalities and clients. What I have learned from my experience……
Make sure you have an agenda – Having a meeting agenda and distributing it prior to the meeting will give everyone a chance to know what roll they will play in the meeting.

Organize your thoughts – Even if your intention is to keep everyone informed about an urgent matter with a project, one to the point email including all of the necessary information is much more productive than 50 with one bit at a time.

Have the right people – Often time's people will invite "everyone" involved with a project to a meeting. Even though they are on the project, take time to consider if the issue at hand relates directly to their project responsibilities.
I'm quite the fan of the 'meetings after the meeting' as these meeting are where you learn exactly what is going on and what needs to happen, who is responsible for what and that the actual need is a one hour task and not the 16 hours based on the project management spreadsheet. No formalities, no fluff, just raw and straight forward talk. My style. Perhaps if we only did 'after meetings' we would get quicker understandings, less fluff, and less formalities.