We have been talking a lot about B2B Integration and how to maximize your investment in automation, but what happens when you're trying to automate but your trading partners aren't as eager and don't call you back? There are so many numbers referencing the cost savings of automating your orders, invoices, payments, etc., for example, in a recent Vanson Bourne Study, 53% of respondents still use Fax/Mail to send and receive their transactions.
Is it your task this quarter to automate as many trading partners as possible? Initially that project may sound like an easy one but that's not always the case. How many times have we all left a message for the EDI coordinator at your vendor or customer and did not receive a return call? So how do we get our vendors and customers to call us back when our project may not be a priority to them? When you call, do you get their voicemail AGAIN? Should you leave another message? We all have a fear of leaving a voice mail message, but you could be making a mistake by not doing so.
There are different reasons why you are not receiving those return calls.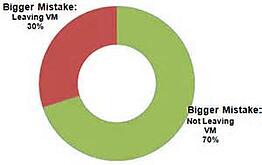 Things to think about:
We weren't prepared when we made the call.
We had no understanding of what we really wanted to accomplish.
Our message did not create compelling reason for a call back.
Before making that call, think about your audience. Is this the first call to the vendor/customer? Is this a follow up call to the vendor/customer? Different scenarios result in the type of messages we leave. The objective in leaving the message is to receive a return call.
It it is important to mention the vendors/customers name, your name and your company. Speak about the reason for the call (ideas on how to reduce costs, avoid common pain points, ways to help the organization). Automating will make their life easier too!
If someone referred you to the contact, ensure that you are providing that information as well. EDI integration and automation is not always a function of IT, maybe you are required to call the corresponding business unit first. Be sure to be clear when speaking, slowly mention your name and contact information, and thank the contact at the end of the message. Remember, you want your project of automating trading partners to be a priority for them as well, get them on boarded quickly! I often find it helpful to leave your name and phone number twice as well as asking for that return call. Key points are to get the vendor/customer interested in your message and wanting to learn more to help you quickly complete your EDI/IT project.
For a follow up message, be sure to mention the day when the original message was left and the subject. Visit again why you would like to connect with them. One thing to remember is that everyone is busy, so ensure your message is standing out!