Authorized Dealers (e.g. watches), Certified Developers (e.g. WebMethods), Certified Pre-Owned (e.g. cars), Accredited Financial Advisors, Certified Personal Trainers…these are all people or things that have been authenticated as "fit for use" to some standard by some organization. But what is the importance of this authentication? In some circles or industries this authentication and the standards involved are highly valued, and in other instances it may be valued but other criterion might also be considered before buying a product or service.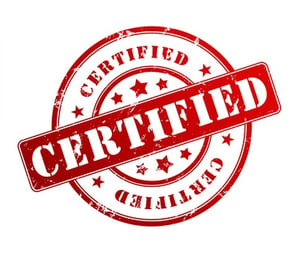 In the instance of Authorized Dealers, often times special sales training and service offerings are essential to being able to carry a particular manufacturer's line of products. Also at issue is the warrantee, or lack thereof, if you buy from an Unauthorized Dealer. Authorized Dealers need to live up to a long list of standards, terms, and conditions set by the manufacturer in order to distribute products.
Accredited Financial Advisors or your physician are two examples of where certification or licensing may be most highly valued by the consumer. Initial and ongoing training, testing, and adherence to ethical and performance standards is required to earn and maintain accreditation or licensing so that you may take comfort in the financial advice or medical treatment you are receiving.
In our world EDI / B2B / MFT sales, technical development, and solution certifications are the accreditations most applicable.
As a software reseller and professional services provider our team is required to periodically study, test, and obtain certifications on a variety of software products we sell and deploy. For example, IBM is one such partner firm where we resell and deploy products. We participate in specialized training to understand the products we present to customers and the impact they will have on their business and environment.
Software companies also recognize certain "Authorized" solutions that either work with or compliment their products. IBM recognizes Business Partners that offer a repeatable Value Added Solution deployed along with IBM software that's extends product capabilities. These Business Partner Solutions are verified by IBM, and if the solution passes IBM certification, it is considered a Capability Authorized Solution. These solutions are then listed as part of IBM's Business Partner Application Showcase or catalog. Premier Business Partners like Remedi are recognized and rewarded by IBM for providing an IBM certified and supported value added solution.
Remedi's IBM Capability Authorized Solution is Remedi Framework for Sterling B2B Integrator. Remedi Framework for Sterling B2B Integrator is a service based framework for IBM® Sterling B2B Integrator® which provides clients a flexible means of enhancing the value and capabilities of Sterling B2B Integrator and other IBM Smarter Commerce solutions.
Authorized solutions are developed from years of experience assisting customers and providing reliable, repeatable, unmatched results. Remedi has been a Premier Business Partner with IBM since 2011 and for 15 years before the acquisition, a partner with Sterling Commerce. Being a Business Partner to Remedi is more that passing a few certifications and sticking a partner logo on our web page. We strive to offer our customer the best services and solutions for their business.
For more information regarding Remedi or our IBM Capability Authorized solution & services, please visit our web site at www.remedi.com or call 614-436-4040.