Who says that candidates can't turn the tables and interview a potential recruiter? Since interviews and even short phone screens should be a two-way street, here are four key questions to ask any recruiter with whom you are considering a partnership.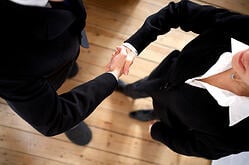 1. How long have you been a recruiter? If the answer is less than two years, you might want to dig a little deeper, or pass altogether. True, everyone has to get their start somewhere, but the profession has too many "dabblers" for you to risk your next career move on a rookie in the absence of more concrete reasons for confidence. You might follow up with a question like; 2. "How did you become a recruiter and why?" Ideally you are listening for something in the answer that sincerely demonstrates a professional appreciation for your specific career challenges and accomplishments.

3. Tell me a little about why you work for the firm you do? Here is yet another opportunity to confirm you are aligning yourself with a firm more deeply invested in the niche' you've chosen for your profession. The more specialized your niche' the more you'll want to avoid the generalist agency looking for resumes to sell and candidate quotas to fill. Specialized candidates are best served by experienced and specialized recruiting firms.

Lastly, find out; 4. What makes your organization different? Not only should the recruiter be able to provide an appraisal of your unique strengths and qualifications after getting to know you, (test them on this point) but he or she should also be able to articulate the unique qualities that cause their firm to stand out in the marketplace to potential clients and employers. Maximum practical positive exposure is what you are after.

Don't be shy about interviewing the interviewer. You don't have to ask these questions verbatim or limit yourself to just these Four. Also, the answers don't have to sound like an advertisement from Madison Avenue, but they should make sense, and not be defensive in nature. Most importantly, they should provide you with a basic sense of which firms you'll want to invest more time with and help you identify the ones better left at arm's length.