Can you believe how quickly the summer has gone? Schools are finally back in session. Before we know it, the leaves will be changing and falling to the ground - creating more work for us – and work we likely don't have time for.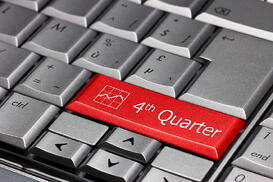 Have you taken the time to think about your organization and how Q4 will impact your business? With project deadlines, budget reviews and planning for 2015, holidays and those last minute vacations – you may be feeling the pressure to accomplish it all.
Now is a great time to start checking off your list for 2014. Sit down and review your business and project goals from the beginning of the year, identify those you've achieved and those you haven't in preparation for your 2015 list.
If you're sifting through what's left on your 2014 list and realizing you....
Have a backlog of trading partners you need implemented.
Your EDI/B2B/MFT software nearing the "end of support date".
Have errors on some of your documents that you just can't get resolved.
Have seen some new technology you're interested in purchasing.
Don't get discouraged, these are things that many IT/EDI/B2B professionals are facing with Q4 right around the corner. Instead of rolling these or other projects to 2015, let us help, we understand the urgency of your projects.
Q4 is a busy time at REMEDI too. As we ramp up for 2015 projects, we are also planning Demos and Sponsoring Fall Conferences. If you haven't received your invitation yet, mark your calendar for our October 9th IBM B2B Integrator and Framework Demo. Discover the value of a Modern Integration Suite with Rapid Deployment, Visibility, and ROI.
A few things about REMEDI:
We are experienced professionals dedicated to understanding your project and goals.
We identify the right skilled resources.
We customize the project to your needs.
We work with your budget and timelines.
We aim for high client satisfaction and loyalty.
We are Celebrating our 20th year anniversary!
If you have any Q4 projects or 2015 Planning sessions that REMEDI can assist with, please contact me for a complimentary assessment.