Recently we have been talking a lot about B2B Modernization, but what about MFT? Managed File Transfer should not be over looked in your modernization efforts. Companies that have no reliable and supported MFT infrastructure are open to many risks.
MFT is responsible for your file security inside and outside of your company with transfers defined as: person-to-person, application-to-application, person-to-application, and application-to-person. These file transfers can contain crucial financial, personal, or legal data, etc. Protecting this data is imperative to your business. When we think about MFT visibility, here are a few questions to consider:
What processes break when a key transfer fails? Could you positively impact customer service by decreasing the time to resolve exceptions on these critical transfers?
Who besides your file transfer operational team could benefit from better visibility of your B2B or MFT infrastructure? (business operations, support, LOB, IT GRC)
How much time do you spend documenting compliance controls, related to your B2B/MFT infrastructure?
Do you have a way to prioritize issues and activities so you can focus on the most impactful ones?
Are you able to communicate your team's value to the organization?
One example of MFT software that can assist you in mitigating these risks is the new version of IBM ControlCenter 6.0. Control Center delivers web-based capabilities for self-service analytics, continuous controls monitoring for governance, risk management, and IBM software monitoring. Two enhancements of note that may make the biggest impact to a Sterling B2B Integrator or Sterling File Gateway environment are:
Revised Dashboard Landing Page for tracking: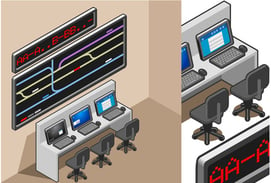 Servers health status
File transfer statistics and success/fail percentage
Active alerts statistics
Servers activities
Complete Files List View, which manages files in a table view providing:
The search bar on the top allows you to search for specific files based on start/end date and time, server type, file name, status, and server id
The resulting file list shows the latest 1000 transfers
The resulting file list can then be filtered by adding specific filter rules from the blue filter bar
Visit IBM's Control Center video series on YouTube!
https://www.youtube.com/watch?v=omUKTOXCOck&list=PL6rnyrFRsKY-a4BK8Vyp7eLGMCeSlEb8y
To learn more about the new features of IBM Control Center 6.0 and other tools to modernize your B2B or MFT infrastructure, contact me directly or visit www.remedi.com for more information.