Remedi Electronic Commerce Group has been awarded Premier Business Partner status by IBM for its successful client and partner work. IBM Premier Business Partner status is earned by organizations that demonstrate superior skills and market success while actively collaborating with IBM and clients to deliver innovative solutions. Remedi earned the Premier Business Partner status through its focus on providing solutions as a B2B Integration partner.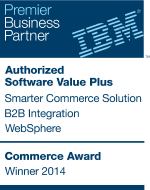 "

Remedi

has worked diligently to enhance our relationship with IBM and to achieve the IBM Premier Business Partner status. As a company we proud of the recognition and believe it demonstrates our commitment to our clients and to IBM. We are committed to providing our clients with the best EDI/B2Bi/MFT solutions. Our team has earned this recognition through completion of IBM certification programs and successful sales and services contracts," said Brad Loetz, President.


As an IBM Premier Business Partner, we will continue to expand our offerings of IBM B2B Integration Solutions and Services as well as continuing to deliver quality solutions to our clients.

Remedi's expertise and long standing relationship with IBM, coupled with our service offering, has yielded clients:

a great B2B and enterprise integration infrastructure
cost savings
enhanced productivity
great value solutions to core business challenges
Remedi professional services are available for those with products for EDI integration, data interchange and data transformation.