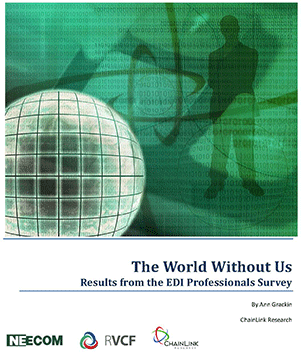 I am catching up on my reading today and ran across a survey that has some great statistics that I would like to share. The information is from a report called
The World Without Us - Results from the EDI Professionals Survey
by Ann Grackin from
ChainLink Research
.
Below are some of the statistics I found interesting:
EDI is critical to business, yet it appears that almost half (49%) of corporate management may be taking it for granted.
Sixty-eight percent of those surveyed said there was no contingency for their illness or future retirement.
When asked about the "personal situation" of the team, more than 21% told us they are struggling, hampered by old tools and poor management.
The connection (integration) to internal systems poses the biggest challenge. As a result, over 50% of time is allocated to support rather than addressing new efforts.
While I don't think these statistics are surprising to those in the EDI group or department, maybe they could pass them on to their manager :)