In a previous blog, (It's Almost Black Friday, Do You Have Visibility?) we discussed the importance of visibility in the supply chain and the desire that we as consumers have to "know where our stuff is". Data visibility is one of the most common requirements I hear about when discussing B2B integration solutions with a customer. Not only are companies required to provide visibility to their customers, but it's increasingly becoming a requirement of line of business users within organizations.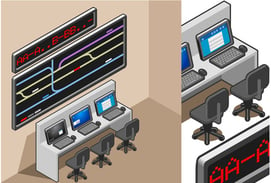 Meeting customer requirements related to protocols, data movement, and governance has often been a challenge due to integration and file exchange solution gaps. These gaps required additional solutions or pre/post process customizations for compliance. Recognizing the need for visibility and data tracking across multiple systems, platforms, and/or connections, software providers have stepped up and developed solutions that offer customers comprehensive capabilities including true end to end visibly and monitoring.
If you are an IBM customer and have deployed more current software in IBM's B2B or MFT portfolio, you may have experienced a closing of gaps in your environment and experienced increasing visibility. To further enhance visibility and continuous data monitoring you may also have considered or implemented a few additional options which include custom "add-ons", framework solutions, or explored the latest version of IBM's Control Center which centrally monitors a variety of communication and transformation solutions.
The latest release of IBM Control Center 6.0 delivers web-based capabilities for self-service analytics, continuous controls monitoring for governance, risk management, and IBM software monitoring for the majority of the IBM B2B and MFT software products.
IBM Control Center V6.0 delivers a new redesigned and simplified web console with a new web-based workspace that is complementary to the existing dashboard. The new quick search capabilities rapidly resolves the "where's my file" questions with the ability to easily set up monitoring of specific transactions. These are a few of the long list of enhancements to IBM Control Center 6.0.
If you're tired of answering the "where's my data?" question, maybe it's time to explore your software and solution options that can increase your visibility and profitability.