It is a special time at REMEDI as we celebrate 20 years in business. Our CEO Tracy Loetz said "I am especially proud of our company ethics and the morals of the people we have hired. Brad will tell you that "doing the right thing" has always been a #1 priority for me. Our reputation for integrity and honesty is a significant reason why we have grown and been in business for so long."

I feel REMEDI has the best staff I have worked with. We are all seasoned veterans that are well educated and knowledgeable with multiple EDI translators when it comes to Recruiting, Account Management, Marketing, and most importantly, our consultants. We all want to provide the best product and quality for our customers so we are very picky who we hire and/or recommend to our clients. That is why we only focus on EDI projects, we are not a body shop and don't just throw resumes at our clients. Most of the time, the consultants we recommend have done multiple projects for REMEDI and we know their technical experience and that they will do quality work. The cherry on the top, so to speak, is our consultants have the customer service skills to be able to make you and your teams aware of where they stand on your project and what they need to be successful.

When we have an opportunity to work with a client, REMEDI does a great job educating our clients on the necessary steps to have a successful project. We schedule a scoping call with a resource in mind to get all the information needed to quote a project. Our Account Managers are experts with the translators but we like to have a technical resource to answer any technical questions and to provide accurate quotes. This is why I chose to work for REMEDI. I learned a long time ago you cannot skip any steps in your process.

My first job out of college I was full of energy and believed technology was perfect. I was a warehouse manager at a distributor and we had state of the art computers to pick products for our customers. We had automated rollers that would move the orders from station to station and lit numbers above the product for our employees to pick from. I said to myself, how anyone can make a mistake? Our bottleneck was always the quality control areas. One person to work on an exception report and 4-6 others to scan the individual products to ensure that the orders were perfect. I thought this was a waste of time and resources; it was too expensive and slow. I wanted to show everyone technology doesn't need double checking. Boy, did I learn an incredible lesson. In the following weeks complaint calls after complaint calls were coming in. We were back ordering some of the most popular products, and the orders were short other products or contained wrong products. I guess you could say I was following the GPS religiously without verifying the directions first. I learned real quick to put the QA and exception check points back in. We would have not been in business long if we kept doing business in that way.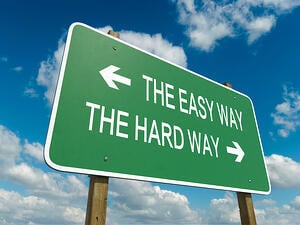 I am sharing this story with you because I learned the hard way and I still think about how naïve I was to this day. I believe in life you always have two choices to make, the easy way or the hard way. It always surprises me when I hear from a client "we just need to go live on our implementation" or "we can go to production without testing". You won't believe how much time and money you will waste when you have to go back over your work and figure out what was wrong. Usually, once you correct one thing five more stop working. If you would take the time and do the necessary steps to test everything in a test environment, before you go live, you will ensure a higher success rate. You may still have errors, but they won't be as bad as if you didn't do the necessary steps to ensure quality in a test environment. Spend the extra time and money on the front end of your project planning to ensure success on the back end. Your management team will be glad you did, you just have to sell them on it.
REMEDI is your reliable source for "everything" integration and EDI. We provide solutions and seasoned professionals that are experts on a wide variety of business integration packages.