A recent article on Yahoo! Finance discussed the top 54 companies to work for based on employee feedback. Eight of the top ten were in the technology sector, while 7 of the 54 use consultants. As the article states, "The best companies to work for were concentrated in particular industries. For example, technology companies are well represented among the highest-rated employers, as are consulting firms." So what is it about technology companies and consulting firms that create high morale and satisfaction for employees?
One observation worth noting about the tech companies is that many are relatively new and successful. Facebook, Linkedin, Google, and Expedia have all been created within the past twenty years. Companies that are still lead by their original founder have a CEO at the head who is still living to see their creation flourish. These founders are generally younger and take more progressive approaches to maintaining employee satisfaction. As the article states, Facebook provides employees laundry services and gym access, while Google provides employees with education reimbursement. These practices are unorthodox, yet their impact on employee satisfaction is evident. These companies can also afford to provide these benefits because their success allows the budget room.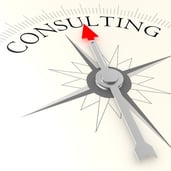 As for consulting organizations, many may be surprised to see them well represented in this list. A common misconception about consultants is that they are used by a company to make up for its deficiencies. In reality, consulting firms are used to provide flexibility and expand a company's capabilities in assisting customers. Specialized consultants can provide a service best suited to a particular client's needs, especially when the client does not have the need or resources to hire a full time employee.
It should not come as a surprise to see the high satisfaction rates with consultants in their companies. Consulting consists of many short term jobs, providing lots of variety in both tasks and clients. Some consultants even enjoy benefits such as hourly pay and remote work environment which allow for more flexible schedules.
If you are looking for the right resource to fulfill your company's needs, you might have a higher chance of success if you hire a consultant. Consultants are professional experts in their field and get the project completed in an accurate and timely basis, usually under budget. You can also keep them on an as needed basis for when future projects come up, or in support of your current systems. Next time you have a need in your EDI department, call Remedi and speak with one of our representatives that can work with you on filling your contract, contract to hire and direct hire needs.