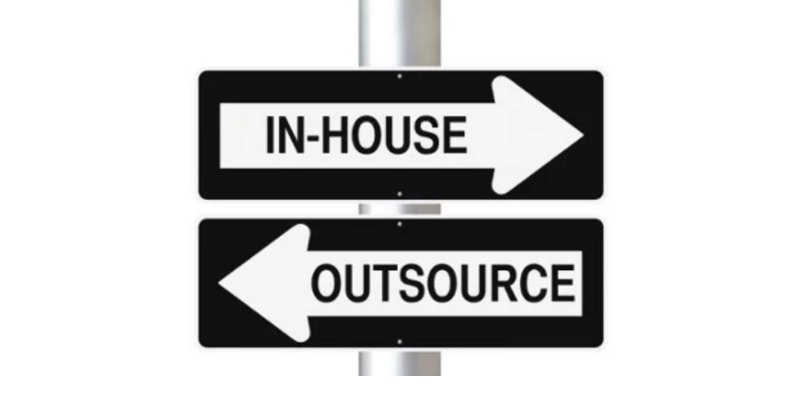 In-house or outsource? It is a question that almost every company has to answer at one time or another regardless of size. When you look at the options, it can be overwhelming, but what are the true pros and cons of keeping your EDI in-house or outsourcing?
Depending on your company size, response time expectations of trading partners, how EDI is perceived as a differentiator within your industry, and other considerations specific to your specific business, some of these may be more or less important to you but they will all factor into your decision. The tables below can help you weigh those factors.
Keeping EDI In-House
| | |
| --- | --- |
| Pros | Cons |
| You have control over your own system and trading partners. | You have to invest in staff who can support your EDI solution. |
| You do not have to wait to make changes to your EDI solution. | You are completely responsible for maintenance, which can be burdensome. |
| Your reputation is not at the mercy of a third-party provider. You can respond quickly to trading partner requests. | An EDI solution must be constantly monitored, which represents an investment in manpower. |
Outsourcing EDI
| | |
| --- | --- |
| Pros | Cons |
| You do not have to worry about technology; your outsourcing firm handles all of that. | You give up control of, and visibility into, your EDI system when you entrust it to a third party. |
| Third-party outsourcing firms can handle your trading partners' special requirements. | If your outsourcing company is offshore or out of your time zone, there might be issues in meeting your SLAs, which could result in fines for you. |
| Outsourcing firms are experts in EDI solutions, so you do not have to be. | The cost of outsourcing can be great if you have a high volume of trading partners and transactions. |
| | If you do not like the service you are receiving with one outsourcing firm, it is expensive to move to another one (and you might lose data in the process). |
Of course, it is important to realize that this is not an exhaustive list of the pro/con considerations, but merely a subset of the many considerations as you examine one route or another in your EDI ecosystem. Also realize there are many companies that use a hybrid EDI and MFT strategy, taking an in-house approach for some components of their business integration solutions and an outsource approach for others.
While some of the pros and cons can overlap, there are still plenty of things to weigh. Ultimately the decision has to be about what is best for your company. Whether you decide you want to take the hands-off approach, have total control of your EDI system, or something in between, Remedi has an experienced staff that can help you decide which options are right for you.
If you are still not sure which way to go or you do not want to lose complete control of your system, managed services or co-sourcing is another option. Remedi has a number of clients that still house their EDI system but do not have the expertise or headcount to hire a dedicated resource. In that instance, Remedi can provide the client with the appropriate resources to manage the in-house EDI system without the concerns that outsourcing can create. Read more about this approach in our newsletter Don't Outsource Your B2B eCommerce Solution, Co-Source Instead.
When Does It Make More Sense to Outsource EDI?
In spite of potential drawbacks, there are times when it makes more sense to outsource EDI than to keep it in-house.
Let's say your core business function isn't integration. That's not exactly a rare scenario – most organizations don't specialize in that. In that case, it makes more sense to allow a third party that does specialize in integration to handle this project because there's a greater likelihood of success.
"If integration isn't your core business, it makes sense to outsource it"
Another situation in which it doesn't make sense to handle an integration project yourself is if integration doesn't provide you with a competitive advantage in your field. Why would you want to devote time and resources to a project that won't make you stand out to customers? That doesn't mean that an integration project isn't a good idea – it just means that outsourcing it might make more sense so you can focus on areas that do provide a competitive advantage.
What Should You Look for in an EDI Outsourcing Consultant?
If decide to outsource your EDI functions, you have to pick the right consultant the first time. EDI outsourcing is a critical relationship – one that has an impact on your customers and your reputation.
Maintaining SLAs with your customers is vital to staying in business. That's why an outsourcing consultant with fully managed/monitored services and 24/7 support is crucial. If something goes wrong, the consultant will not only be aware of the problem, but will have someone available quickly.
"EDI outsourcing is an important relationship – one that has an impact on your customers and reputation"
Moreover, having a dedicated consultant is essential, especially if this is your first integration project. You don't want to be bounced around a consulting company; if you have questions, there should be a single point of contact to whom to turn. That person should be with you until the end of the on-boarding stage, so that if issues arise, they can be taken care of quickly.
A third consideration is whether the consultant can support obscure data formats and protocols. You might have a niche set of needs which not just any consultant can handle. Do plenty of research to find a consultant that can meet your needs.
What If You Change Your Mind?
What if you start off in an outsourcing relationship, but want to move your EDI solution to an in-house arrangement? Is that possible, let alone advisable?
It is both possible and advisable, provided you're using the right outsourcing partner. You need someone who has experience carrying out both types of projects successfully. Not only does this partner have a solid base of knowledge, but the consultant will also have a strong set of relationships that enable the success of those projects. Calculate your cost Download our free EDI Calculator to see how much you can save.