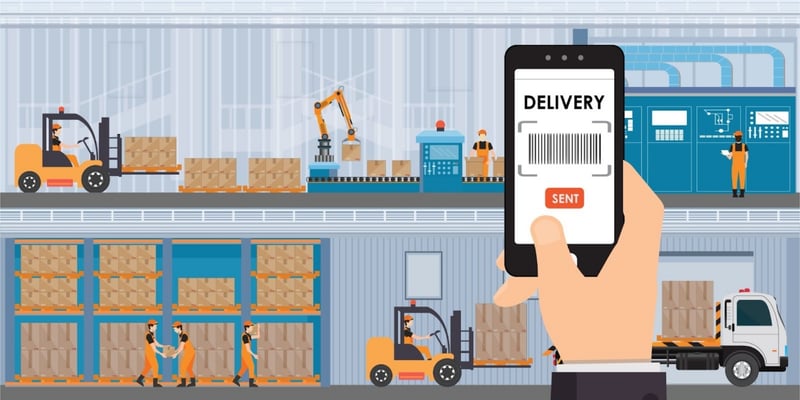 When it comes to logistics operations, the quick, accurate transfer and receipt of order- and shipment-related data is vital to business success. For many trading companies, electronic data interchange (EDI) is necessary. By enabling fast, accurate data transmission between business partners, EDI boosts the workflow of entities all along the supply chain, saving companies time, effort and money.
Why is EDI Essential for Logistics?
Electronic Data Interchange, a technology that allows for the standardized exchange of information between at least two computers, is an essential component of logistics business operations. It makes possible the real-time transmission between trading partners of crucial supply-chain-related documentation, helping ensure the on-time delivery of goods to customers.
With its speed and high level of accuracy, EDI optimizes logistics-company workflows by replacing multiple, often paper-based work processes. These include postal mail, fax, and email, among other methods of information exchange.
In addition to being costly, systems that use large quantities of paper are also highly error-prone, as they rely on manual data entry. So, swapping them out for paperless EDI workflow processes can greatly improve a logistics company's efficiency.
How Does EDI Work?
Depending on whether a company chooses to use in-house or outsourced EDI services (more on that here), a company's EDI uses on-premises software systems or an offsite, third-party-managed system to instantaneously send business data and documents to other players in the supply chain.
EDI uses several standardized formats worldwide, including ASC X12, TRADACOMS, UN/EDIFACT, and ODETTE. These formats enable computers to read the various business files sent and received by trading partners. Without them, the computer systems involved would not be able to comprehend the contents of each document line, which would significantly slow the fast pace of modern international trade.
The main standardized EDI format used in North America is ASC X12. Developed by the American National Standards Institute more than four decades ago, X12 undergoes a rigorous process every three to five years. Following the analysis, an updated iteration is adopted, with the new name indicating the specific version and release.
The Typical EDI Workflow Process
One of the most basic EDI documents in the X12 standard is the electronic purchase order, the EDI 850. In the EDI workflow process that begins with this document, the typical progression is as follows:
Step 1: EDI 850
The purchaser creates and sends the EDI 850, a highly encrypted document, to the vendor. The file contains the same information as a paper purchase order: purchase order number, date, vendor and purchaser contact information, purchaser billing details, unit and quantity of items ordered, and more.
Step 2: EDI 855
Once the EDI 850 has arrived, the vendor confirms receipt. Confirmation is usually done with an EDI 855, a purchase order acknowledgment. The EDI 855 notes vendor consent to the requested transaction and communicates the degree to which the order can be fulfilled (for example, if there is a price change, it will be noted here). At this stage, the vendor readies the goods to be sent, and the buyer may begin making room for the order's arrival.
Step 3: EDI 856
When the vendor ships the order, they will also send an EDI 856, an advanced ship notice, to the purchaser. An EDI 856 contains details about the goods sent, such as container numbers, barcodes, package type, size, and shape. Upon item receipt, the buyer can use RFID scanners to ensure the information given in the EDI 856 matches the delivery, rooting out potential mistakes and speeding transaction closure.
Step 4: EDI 861
When the buyer receives the ordered goods, they send an acceptance certificate or "receiving advice" notice, an EDI 861. This form acknowledges that the items have arrived in the promised condition at the correct destination. An automatically dispatched EDI 861 allows the supplier to generate an invoice quickly.
EDI for Logistics: Benefits
For those logistics companies that have yet to implement EDI technology, there are numerous reasons to do so as soon as possible. Below are three of the main business benefits of using an EDI workflow:
Save money
In the longer term, EDI technology used for workflow-process optimization can save a business significant money. As mentioned previously, paper can be expensive -- particularly when it is purchased and used in large volumes, as it often is at logistics companies with numerous transactions taking place at any given time. Because EDI is a paperless technology, a company no longer has to buy large quantities of paper and no longer has to have costly storage space to keep old files.
Boost efficiency and security
EDI sends documents in encrypted form, greatly reducing the chances of information interception by hackers and the risk of lost information. Its automatic, instantaneous sending and receipt of information -- regardless of supplier and buyer location -- slashes down times, eliminates manual errors, and frees up human resources for higher-level work.
Improve the customer experience
With EDI workflow processes, a logistics company can get its customers their goods sooner. EDI enables a business to keep customers abreast of package status and location, send them regular shipping updates, and provide better, faster customer support when needed. A satisfied customer is a return customer -- and one who refers new business to the supplier.
EDI Made Easy
The EDI workflow process is undeniably easier, faster, and more efficient than a manual system -- but implementation can seem like a formidable undertaking. That's where a trusted third-party integration partner such as Remedi can come in and ease the path forward.
Remedi offers highly trained EDI professionals with deep experience with logistics use cases who can help you deploy EDI solutions that will completely change the way your company functions. When you let us take the EDI work off your plate, you can put your focus back where it belongs: on your growing company.
From easier interactions with trading partners to bolstered customer experiences to gaining a competitive edge in the market, a Remedi-made EDI workflow solution will improve the way you do business all around.
_________
Find out how and where Remedi can help your company grow to its fullest potential. Request a complimentary integration/EDI assessment today.