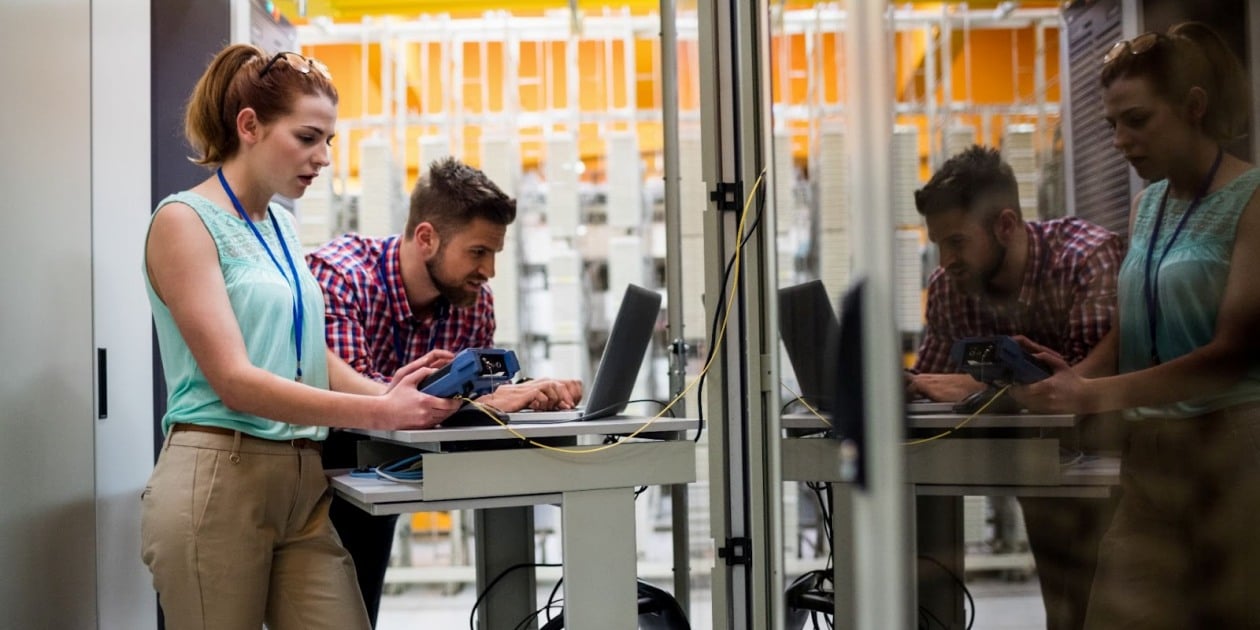 EDI is a necessity in today's marketplace, but managing it yourself can be difficult, time-consuming and costly – which is where managed EDI services come in. In this blog post, we detail why outsourcing EDI is often a business' best course of action.
What are Managed EDI Services?
EDI, a standardized electronic means of transmitting business documentation between two or more computer systems, has helped streamline and speed processes since its introduction more than six decades ago. Helping training partners exchange everything from bills of lading to invoices, most modern businesses require that the vendors with which they do business use EDI.
But setting up and managing EDI in-house is often infeasible for various reasons. Enter managed EDI services, in which a third party coordinates the setting up and ongoing running of your EDI solution. Managed EDI can be as varied as your business' needs. Below, we outline the types available.
Onsite
With on-premises managed EDI, you get integration applications kept at your location on your servers.
Hosted
When you opt for hosted managed EDI services, your integration applications are maintained on servers in data centers.
Cloud
In the case of cloud managed EDI, enterprise application integration and/or enterprise resource planning applications are kept and updated in the cloud.
Hybrid
With hybrid managed EDI services, your EDI, EAI and/or ERP systems are maintained in two or more locations.
5 Reasons to Consider Outsourcing EDI Services
The reasons to choose managed EDI are many, but below we break down the top five.
Lower Operating Costs
One of the most compelling reasons for outsourcing EDI is lower upfront costs. Having an outside vendor fully manage your EDI solution frees you from having to buy all of the expensive hardware, software and communications infrastructure needed.
Fully managed EDI continues the cost savings once you're up and running. By eliminating the need for large amounts of paper, EDI helps you reduce processing time. (EDI slashes the instance of manually done processes, the costs of which can add up quickly. For example, the manual cost to process an invoice is approximately $27, according to IBM. Using an EDI system, that figure goes down nearly 90%, to just $3 per invoice.
EDI use will also reduce your daily operating costs. With it, a business will process more documents more quickly and more accurately. For retail enterprises, this reduces both order-to-cash and order-to-shipment times, getting you paid sooner and increasing your customer satisfaction.
And because EDI automatically checks for errors in the documentation it handles, your organization will see greater accuracy, slashing the instances in which you must absorb costs owing to incorrect or late shipments.
Increased Uptime
With greater speed and accuracy comes greater efficiency, and having your EDI services fully managed ensures that you receive every bit of efficiency EDI offers. A dedicated team means you get near-constant attention paid to your system and the certainty that the latest technologies are being put into place.
With managed services, your EDI processes aren't affected by your staff's sick days, vacation time or turnover. Your system gets covered no matter what.
EDI will save your employees time and effort, too. Because EDI automates so many tasks that would otherwise need to be done by a human being, your workers can focus on higher-level work – the kind that leads to revenue-generating ideas and innovation.
And because your managed-services provider handles all the partner onboarding and mapping for your EDI solution, you can reduce the lead time before you and new customers can start doing business.
(As for often costly, time-consuming licensing requirements, your vendor will handle those, too.)
Reduced Risks
Routine work, such as updates and vendor-requirements changes, are made as soon as possible. And more intricate tasks, like complex requests from partners, are supervised by experts whenever needed.
The managed services partner will oversee security protocols, too, so your sensitive data stays safe and you always remain in compliance.
Redeployment of Staff and Resources
Working with a managed services partner allows you to start reclaiming those previously sunk team- member hours. No longer will your employees' days be taken up by repetitive, time-consuming tasks. Just imagine all the other efficiencies and savings that might follow.
Increased Customer Satisfaction
EDI significantly speeds up business processes. It ferrets out potential problems and discrepancies, often stopping mistakes before they can be made. For your organization, all this means one thing: increased customer satisfaction.
Modern retailers not only want business documentation received and processed nearly instantaneously; they expect it. With EDI's automation, your organization doesn't have to worry about staying in compliance with receipt-acknowledgment deadlines because they'll be met for you. By exceeding customer expectations, you'll keep your current customers and attract new ones.
Conclusion
EDI is a crucial part of any business, and managed services are a crucial part of any optimized EDI platform. Your managed services partner can handle everything from implementation and testing, to transaction monitoring, to error identification and fixing – for the entire life of the contract. You'll see faster business processes, fewer mistakes and greater customer satisfaction.
_______________
Considering managed EDI services? Adopt a Managed Integration Mindset