Thinkronization Newsletter September 2012
It is an election year, and outsourcing again becomes a popular topic. Outsourcing can apply to a wide range of positions from HR to IT to manufacturing. Outsourcing has its pros and cons. In IT, many companies consider outsourcing in hopes of cutting cost.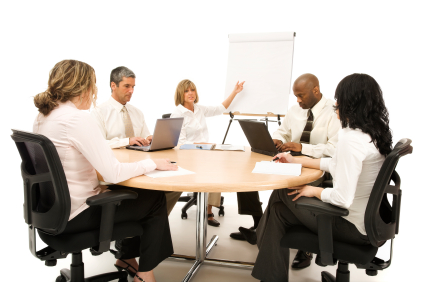 When many of us think of outsourcing, we think of sending jobs overseas. But the statistics show offshoring is the exception, rather than the norm. The worldwide IT outsourcing market grew nearly 8 percent last year. According to a survey in Information Week, 60 percent of outsourced IT positions still remain in the U.S., with only 28 percent of outsourced jobs going to Asia; according to a survey conducted by InformationWeek Magazine.

Popular reasons for outsourcing IT functions include:
Many large IT departments are too busy to handle day to day operations
Difficulty finding employees with the right skill sets in some geographies
Lower operating costs
Free up staff for more strategic projects
Inability to deliver projects with current in-house expertise
Access to industry specific expertise
There is a downside to outsourcing:
IT organizations may lose their IT knowledge and don't progress their skills
You lose accountability to a certain degree when it comes to the progression of your project or service to your clients
Will you receive real time information and knowledge of staff and performance of those associated with the project?
You outsource a large project or conversion, then the project is completed, who has the knowledge to maintain the software/system or will you have to continue to outsource for support also?
How much is too much? It is possible to outsource too much; if you outsource too much you are no longer a prime innovator.
The fact remains that outsourcing presents a mixed bag of emotions. The most successful relationships exist as partnerships, where a team approach delegates the responsibilities and everyone works toward the goal. No player feels threatened or overshadowed by the presence of other players. This business model is gaining prominence as "co-sourcing," leveraging the strengths of the in-house team with the resources of the vendor. The vendor and company operate more as a team, and less as an employer/employee relationship. This scenario presents a more cost-effective, team-based approach with less friction, faster implementation and reduced risk for the company.

There are more than 2.5 million contract and temp workers in the US. The staffing industry continues to grow to meet the needs of companies looking to fill positions but not necessarily hire permanent workers. The staffing industry has regained almost all of the jobs it lost in the recession while other employers have only recovered 50 percent of the positions they eliminated. The workforce has also seen a rise in freelance employees which has several positives for those that choose that route. Freelance offers more flexibility on terms of work, hours, and career path.

So consider the value of co-sourcing versus outsourcing. What is the complexity of the responsibilities that you are delegating to an outsourced team? Weigh the value of having an in-house team versus off-site project management. Is there really a cost savings in outsourcing? When you consider all of the "what if's" and you give up accountability of your system, is it really a savings?

That's why REMEDI Electronic Commerce Group is the perfect co-sourcing partner. Partner with a firm that has the expertise you need and work side by side. Co-sourcing can give you the benefits of skill, manpower, and the cost savings of not having to hire your own employees.

When you co-source with REMEDI, you can have an effective partner in the areas of B2B ecommerce, data integration consulting, staff supplementation, managed services, recruitment and placement. REMEDI, as a partner, has access to offer on-premise, off-premise and SaaS, EDI, EAI, and MFT solutions.

Integration Consulting
Project based consulting
Staff supplementation
Managed Services
You own it, we maintain it
Recruiting & Placement
Full time
Contract to hire
Integration Software
In Other News
MFT Webinar - Tuesday, October 9, 2012 at 1:00 pm EST (60 minute, including Q&A)

We invite you to join IBM and REMEDI at this informative live webinar event. We'll demonstrate how you can extend your B2B integration architecture with the IBM Sterling Managed File Transfer family of products to effectively manage both the volume and complexity of file-based data integration — while leveraging your existing IT investments.

You Will Learn How To:
Create a comprehensive B2B strategy with trading partners by extending your existing B2B Integration infrastructure to include IBM Sterling Managed File Transfer.
Successfully control, manage, and help ensure the security of B2B managed file transfers.
Architect a solution that meets your organizational requirements, is supportable, and delivers the requisite scalability.
Leverage risk management capabilities of the IBM comprehensive B2B integration solution, to help you meet compliance and corporate governance requirements.
Register for this informative event and also gain access to these complimentary IBM white papers: "Security best practices for file-based data movement—an IT practitioner's guide", and "Seven steps to building a compelling managed file transfer business case". REGISTER TODAY!

Need a reliable source for your Integration and EDI; consulting, training, recruiting, managed services, financing, or software needs? Incorporating over 20 years of experience in the EDI, B2B, MFT, and Commerce industries, REMEDI provides seasoned professionals that are experts on a wide variety of business integration packages. Our business integration experts apply their skills to leading integration applications which result in solutions that reduce costs, increase efficiency, and improve time to market.

Remember To Follow Us On LinkedIn, Twitter, And Facebook
The place to get information and links to opportunities, company announcements, research, articles, blog posts and more…

Twitter – 95 Followers
Facebook – 86 Likes
LinkedIn – 135 Followers